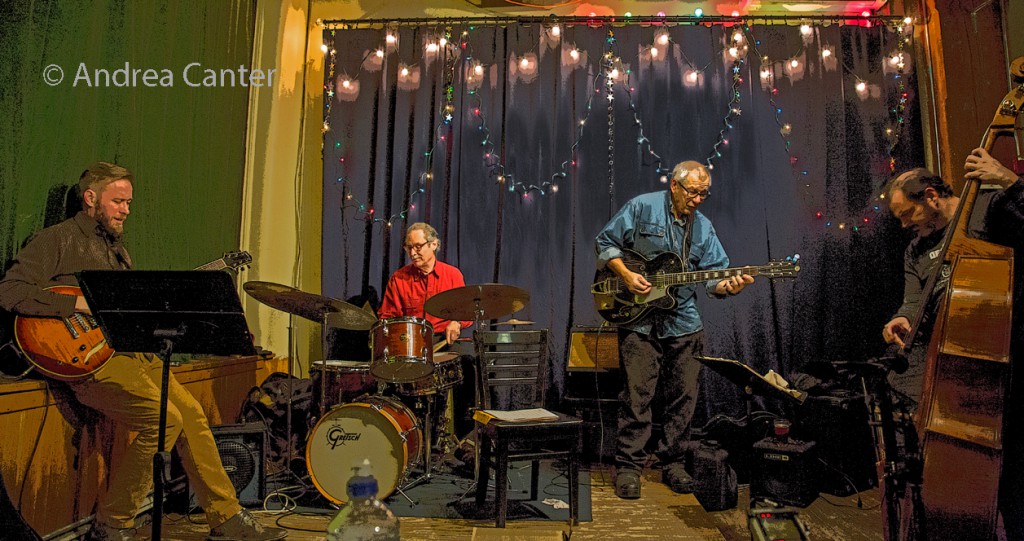 Dean Granros' double guitar quartet with Zacc Harris, Chris Bates and Jay Epstein jump starts Labor Day Weekend, on the Thursday Night Jazz at Reverie series this Thursday, September 1 at 9 pm. It's a band of all-stars playing unique arrangements and original tunes.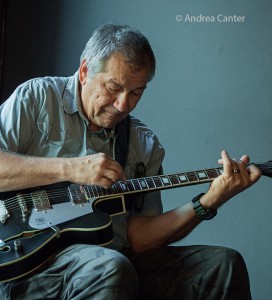 Dean Granros studied music theory and composition at the University of Minnesota for in 1970-1972, and studied composition with John Gessner at MacPhail Center  for Music in 1973. Concurrent with those academic studies, he served a lengthy apprenticeship in jazz and blues, playing nightclubs such as the old Blue Note in North Minneapolis, the Extraordinaire, and the Downtowner. He was a co-founder of one of the Twin Cities seminal experimental jazz groups, "The Whole Earth Rainbow Band" in 1970, and in 1974 he created and wrote for "Lapis," an ensemble dedicated to exploring composition with structured improvisation.
From 1985 through 1993, Dean joined former Weather Report drummer, Eric Kamau Gravatt, in the high energy post-bop band, Kamanari.  He co-founded the progressive and virtuosic improvising trio F*K*G in 1995, with saxophonist Scott Fultz and drummer Dave King. In 2002, he joined George Cartwright's band Curlew, touring the Eastern U.S. and playing the EdgeFest in Ann Arbor, MI; he was featured on Curlew's much lauded 2003 Cuneiform release, Mercury. Also in 2003, Dean began playing weekly Wednesday nights at the Artist Quarter with the exploratory quartet, How Birds Work. Granros also continues to perform locally with groups such as Starry Eyed Lovelies (with Mike Lewis, Anthony Cox and Dave King), FKG and How Birds Work. His ensemble "AntiGravity" explores new directions in  improvisational composition. Over his career, Dean Granros has performed extensively at concert venues like the Walker Art Center and First Avenue, and his music has been featured on MPR, KBEM, and KFAI radio. Earlier this month, Dean and Joel Shapira released Jazz Guitar Duets: Live From the Twin Cities Jazz Festival, recorded in June at the Black Dog.
Last fall, Dean assembled what was intended as a one-off with fellow guitarist Zacc Harris, bassist Chris Bates and drummer Jay Epstein, performing on the Bridge Series at Jazz Central. But the chemistry was too powerful, the music too incendiary to stop at one gig. Dubbing the group Tall Tales, Dean has since brought the quartet into the Black Dog, Nicollet and Icehouse, and ultimately into the studio to lay down tracks for what is surprisingly his first recording devoted to his original music.
Noted Don Berryman (Jazz Police), "Dean Granros is a musical Jekyll and Hyde, mild mannered when he takes the stage and settles into the groove but eventually he will play like a madman taking the music where no sane person would and then makes it beautiful when he gets there."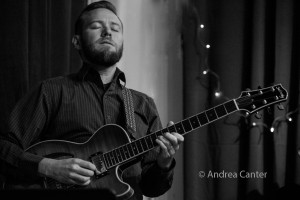 Guitarist Zacc Harris is a California native who came to Minneapolis about ten years ago from Illinois, where he graduated from Southern Illinois University. Here he formed the Luminessence Trio (now Zacc Harris Trio), continuing weekly gigs at the Riverview Wine Bar. Zaac also leads his Quartet, the Atlantis Quartet, Vital Organ, the Zacc Harris Group, Counterclockwise, and American Reverie; performs frequently with Brandon Wozniak, Adam Meckler and Babatunde Lea; and teaches at Hamline University as well as private guitar lessons. He's also curated the Jazz at Studio Z series for four seasons.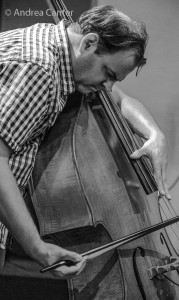 Bassist Chris Bates is familiar to Twin Cities audiences through his associations with the Atlantis Quartet, How Birds Work, Red Planet, Volcano Insurance, Framework, Low Blows and many other cutting edge ensembles. Most recently he has stepped out front as leader of the Good Vibes Trio and his quintet, Red Five, both of which released impressive debut albums over the past two years.  He also curates a monthly improvisation series at Jazz Central. Chris studied at the University of Wisconsin–Eau Claire and later with Anthony Cox, was an original member of the Motion Poets, and a 1999 McKnight Composer Fellow.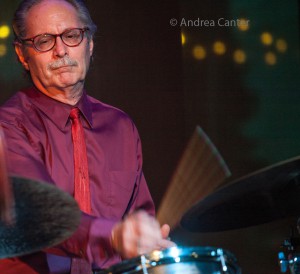 Of trapset master Jay Epstein, Cadence Magazine's David Lewis noted that "his dazzling cymbal and snare work extends the lineage of Tony Williams and Jack DeJohnette." For many years, Epstein managed time for the Phil Aaron Trio with a long-running weekly gig at the Hotel Sofitel in Bloomington and recently reunited; more recently he has toured with Five by Design. These days, Jay keeps busy with Red Planet, Framework, Counterclockwise, Firebell, Bronkow Vision, Off the Map, and a duo with John Penny, and in support of a long list of area vocalists and instrumentalists. Jay released Long Ago on Igmod Records, has recorded with Bill Carrothers and Chris Lomheim, and appears on each of Gordon Johnson's Trios, among a long list of sideman credits.
Tall Tales (2015) includes five of Dean's compositions, ranging from the twisty opening "Blues for All" to the animation of "Chinese Orange" to the funky twang of "Roots" to the Eastern vibe of "No. 2" and the anthemic closer, "For Sonny Sharrock." The two covers include a dramatic tear on "Monk's Dream" and the album's big surprise, a modern romantic turn on Django Reinhardt's "Nuages." Released on Shifting Paradigm Records, local recording heavyweights supported the project at the Terrarium via engineer Rob Oesterlin, mixing by Jason Orris, mastering by Huntley Miller.
Thursday Night Jazz at Reverie (formerly The Nicollet) is curated by Steve Kenny, and takes place at 1931 Nicollet Av South, just south of downtown Minneapolis. No cover but donations ($10) suggested to pay the musicians and support the series.