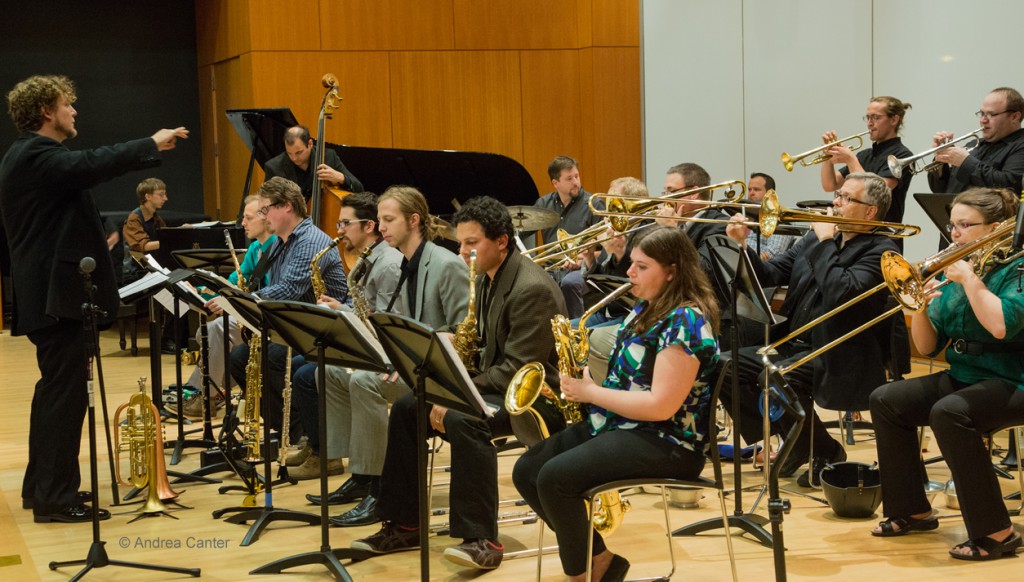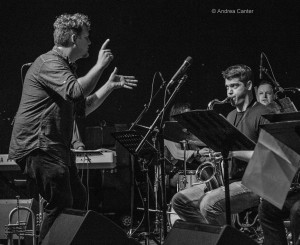 Gathering a band of "some of the Twin Cities' hippest younger players," young and hip trumpeter Adam Meckler has been leading one of the region's most innovative big bands for the past three+ years. A monthly fixture at Jazz Central for about a year, then in a similar time slot at the Artists Quarter, and later a monthly draw at the Amsterdam, the AMO released its first recording (When Clouds Look Like This) in fall 2014, listed by i-Tunes as one of the best jazz releases of 2014. The band debuted at Vieux Carré in September 2015, and now returns monthly on third Thursday nights. Offering an alternative to the usual St. Patrick's Day celebrations in St. Paul, the AMO promises new music from bandleader Adam Meckler. " I'm a maniac and have another new chart ready," he says. "It's a New Orleans-themed tune called 'The Idea Whose Time Has Come.' Rad. It will be fun." Mostly staffed with his usual suspects, Meckler also notes that drummer Reid Kennedy will join the cast, "and not only does he have impressive guns, he's a hell of a drummer and is like a New Orleans expert or whatever." (Among his other credentials, Kennedy plays snare with Jack Brass Band.)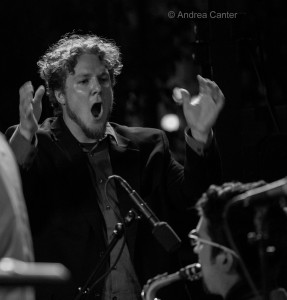 A performer, composer and educator, Adam Meckler received his undergraduate degree in trumpet performance with a jazz studies emphasis in 2007 from Lawrence University in Appleton, WI. A member of LU's Downbeat award-winning Jazz Ensemble, he studied with acclaimed composer and educator Fred Sturm and received the school's prestigious Jazz Composition Award and the Phi Mu Alpha Sinfonia's Leadership in Music Award. Based now in the Twin Cities, Adam has performed with The Artie Shaw Orchestra, the Stan Bann Big Band, Nova Jazz Orchestra, Evan Montgomery Quintet, Stan Bann Big Band, and Brass Barn Polka Band. These days he regularly performs with wife/vocalist Jana Nyberg's ensemble (Jana Nyberg Group), Jack Brass Band, Pete Whitman's X-Tet, the Graydon Peterson Quartet, the Brass Barn Polka Band, The Good, the Bad and the Funky, Nooky Jones, and leads his Adam Meckler Quintet, Lulu's Playground (a quartet of like-minded fellow Lawrence University grads, including trumpet, guitar, cello and accordion), and  his Adam Meckler Orchestra. Meckler's debut recording, For Dad, included all original compositions and features four of the area's most sought-after musicians—Brandon Wozniak on tenor sax, Zacc Harris on guitar, Adam Linz on bass and Greg Schutte on drums—in a  tribute to his father (Rick Meckler) who passed away in February 2009. With the AMO, he released When Clouds Look Like This in fall 2014, and in August 2015, led his quintet through three live recording sessions at three venues for a 2015 release.
The Adam Meckler Orchestra is largely an "under 40" ensemble, meaning this band could be on the local scene for a long time! The instrumentation is that of a traditional big band, but the music is more influenced by modern jazz giants like Maria Schneider, John Hollenbeck, Bob Brookemeyer and others, and emphasizes original music written for the band.  Adam serves as conductor, composer and soloist. In addition to residencies at Jazz Central, Artists Quarter,  the Amsterdam, and now Vieux Carré, the AMO has performed at Studio Z, the Icehouse, O'Gara's, the Ritz Theater, Twin Cities Jazz Festival, Lowertown Concrete and Grass Festival, and more.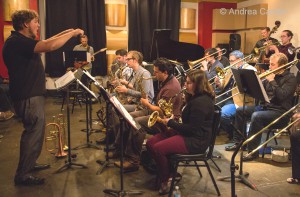 Notes Adam, "Many of us have been in the band for years, which has allowed us to develop a musical personality that is creative and spontaneous while also being grounded in groove and melody. If you think you know what jazz big band music sounds like, you can pretty much throw that out the window. Our music is influenced by pop and R&B which gives it a soulful flavor and frequently features catchy melodies."
The AMO at Vieux Carré will include: Adam Meckler (trumpeter, composer, conductor, soloist); Cameron Kinghorn, Noah Ophoven-Baldwin, Elizabeth Stadolka, and Tom Krochock (trumpets); Jeff Rinear, Nick Syman, Mason Hemmer, and Jenn Werner (trombones);  Pete Whitman, David Hirsch, Angie Hirsch, Shilad Sen, and Lucia Sarmiento (saxophones); Steven Hobert (piano); Graydon Peterson (bass); Reid Kennedy (drums); and Ethan Elseth (guitar).
Vieux Carré is located in the lower level of the Hamm Building at 408 St. Peter Street in downtown St. Paul; www.vieux-carre.com. Adam Meckler Orchestra performs on March 17 at 9 pm, $10 cover. Lonesome Dan Kase performs solo blues guitar/vocals during the early evening (6 pm), no cover. More information at http://amorchestra.bandcamp.com/