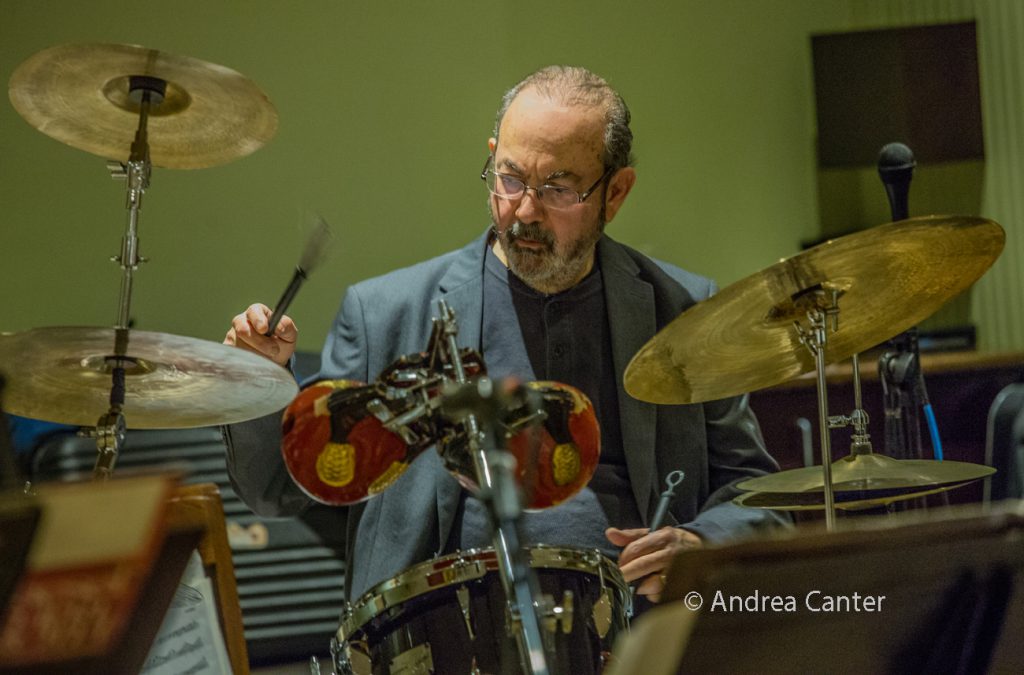 © Andrea Canter
Steve Kenny's Saturday Night Jazz at the Black Dog aims high and seems to hit that target every week! The talents on the little stage this weekend will keep that record intact: An opening set features Le Voyage; the headline set presents Peter Kogan's Monsterful Wonderband.  It's definitely a monsterful night!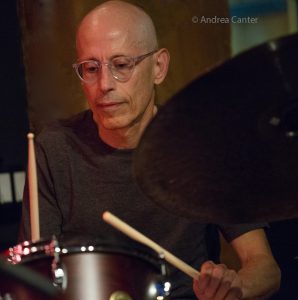 Le Voyage (7 pm)
A relatively new band around town with some veteran heavy hitters– local legend Donald Washington joins young Matt Trice on saxophones, with Richard Studer on bass and Steve Hirsh on drums. This is no "warm up" band!
Monsterful Wonderband (8:30 pm)
Drummer Peter Kogan leads the headline set with his Monsterful Wonderband septet. His cohorts for this outing include Scott Agster (trombone), Pete Whitman (saxophones), Geoff Senn (trumpet), Chris Olson (guitar), Joe Strachan (piano), and Jeff Bailey (bass).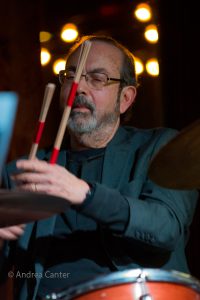 From the Minnesota Orchestra percussion section to jazz venues throughout the Twin Cities, timpanist/drummer Peter Kogan has emerged as a force to be reckoned with on the local jazz scene. After retiring as principal timpanist from the MO, Kogan has led several jazz ensembles, including his quartet and his septet, Monsterful Wonderband. Peter's background includes college studies at Julliard and the Cleveland Institute of Music, as well as a career largely spent in classical orchestras. However, he also backed Blues legends Lightnin' Hopkins, Honey-Boy Edwards, and Jimmy Witherspoon, and Rock & Roll legend Bo Diddley, as well as such groups as the Drifters and the Crystals. He also performed with the Larry Elgart Big Band and wrote for and performed with the fusion band, Scratch n' Sniff. Monsterful Wonderband performed  at the 2017 Winter Jazz Festival in St. Paul.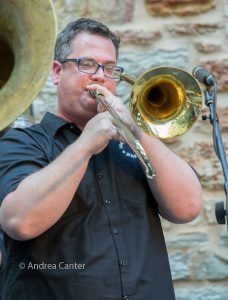 Once a student of Tiny Baker, trombonist Scott Agster is an alum of the famed University of North Texas One O'Clock Lab Band who furthered his studies at the U of M, where he recently completed his DMA degree. His eclectic chops have been featured with the Glenn Miller Orchestra and Dallas Jazz Orchestra, and locally with Snowblind, Salsa del Soul, Jack Brass Band, hip hop group G8, and the Bella Gala Big Band; with Doug Haining he co-leads the Explosion Big Band that performs monthly at Jazz Central Studios. A veteran of international jazz festivals, Scott has performed with Slide Hampton, Nicholas Payton, Phil Woods, Benny Golson, Dave Douglas and more. Scott was also a founding member and arranger for the Vector Trombone Quartet, which was a finalist in the International Trombone Association Quartet Competition in Helsinki, Finland in 2003. Scott is currently active as a clinician on low brass techniques and improvisation, serving as Assistant Director of Ensembles at the McNally Smith College of Music.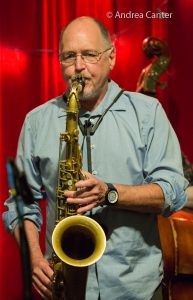 After launching his career in Kansas City, saxophonist Pete Whitman moved on to jazz studies at North Texas State University. He toured internationally with the Glenn Miller Orchestra before moving to the Twin Cities in 1988. Pete's credits on tenor, alto, soprano and flute include performing with Randy Brecker, Jack McDuff, the Woody Herman Orchestra,, Michael Feinstein, Debbie Boone, Rosemary Clooney, Barbara Dennerlein, Lavay Smith & Her Red Hot Skillet Lickers, Dave Stryker, Curtis Fuller and Andres Prado. In addition to leading his X-Tet and smaller ensembles in the Twin Cities, Pete works regularly with the Jazz MN Orchestra and Mississippi. A dedicated educator, Whitman heads the Woodwind and Brass Department at St. Paul's McNally Smith College of Music, teaching saxophone, improvisation, and arranging, and leading the McNally Smith X-Tet.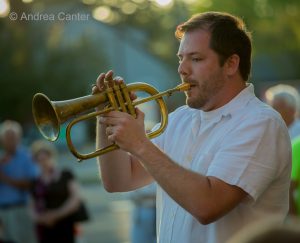 Geoff Senn is a free-lance trumpeter, composer and educator. After earning a Bachelors of Music from the University of Minnesota Duluth, Geoff received his Master of Music in Instrumental Jazz Performance from the University of Miami. He went on to work for Princess Cruises, performing around the world in their fleet orchestras. Since returning to Minnesota, Geoff has performed regularly in the G. West Quartet, Ingo Bethke, Belagala Big Band, Davina and the Vagabonds, Rontana, and the Power of 10, in addition to playing with and co-leading the Twin Cities Latin Jazz Orchestra with Mac Santiago. He also teaches at the Anoka-Ramsey Community College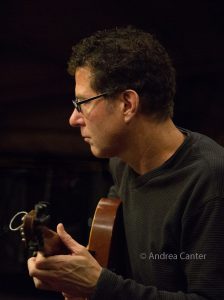 Guitarist Chris Olson is a dedicated jazz educator as well as performer. Since earning a master's degree in jazz studies/performance from the University of North Texas, he's taught guitar, jazz history and improvisation as well as directing jazz ensembles at UW-Stevens Point (where he earned his undergraduate degree), Wausau Conservatory of Music, UW-Marathon County, and Inver Hills Community College. Currently on the guitar faculty at McNally/Smith College in St. Paul, he also teaches guitar lessons and jazz combos at the MacPhail Center for Music and summer programs at the Shell Lake (WI) Arts Center; he also serves on the Board of the Minnesota Guitar Society. Chris has performed with Bob Mintzer, Louis Bellson, Terry Gibbs, Ira Sullivan, and Bobby Vinton, and has appeared frequently with the JazzMN Orchestra and at the Black Dog, heading his monthly "Chris Olson Project. Chris a founding member of the trio Framework, and has been heard recently in duo with pianist/vocalist Laura Caviani.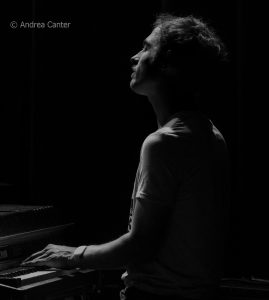 Pianist Joe Strachan is a 2013 graduate of the University of Minnesota and former student of Laura Caviani and Bryan Nichols. Keeping busy on the local jazz scene, Joe performs with the Adam Meckler Orchestra, Pete Whitman X-Tet, Charanga Tropical, Graydon Peterson Quartet, Twin Cities Latin Jazz Orchestra, Jake Baldwin Quartet, and Chris Bates Dimensions and Inventions Trio. He also provides piano accompaniment for the U of M School of Dance, community theater productions, a 16-piece live hip-hop band, and theater installations.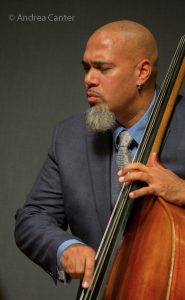 Jeff Bailey (bass) has performed in a wide variety of musical settings as a musician, composer, and producer. He has performed with world-renowned jazz artists Captain Jack McDuff, Craig Taborn, James Carter, Nachito Herrera, Eric Kamau Gravatt, Rodney Jones, Dave King, Brian Lynch, Wessel Anderson, Peruvian guitar master Andrés Prado, and James Moody. An eclectic talent, Jeff has also toured and performed with Keri Noble, Joey McIntyre (NKOTB), Tommy Barbarella (Prince), Charles Lazarus (Minnesota Orchestra), Reverend Billy Steele, Jennifer Kimball, Heather Headley, and Charley Drayton. He has also produced a Minnesota Music Award-winning CD for Alicia Wiley, receiving a Best of the Twin Cities Award as a founding member of Moveable Feast, and a Minnesota Music Award nomination for Bass Player of the Year. Locally, Jeff has performed with Doug Little, Mississippi, Bobb Fantauzzo's Weaving of Traditions, and Jeremy Walker's Atrium Jazz Ensemble since its first season. Currently he teaches at McNally Smith College of Music where he heads the Bass Department.
The Black Dog is located at 308 Prince Street, in the street level of the Northern Warehouse in St Paul's Lowertown Arts District. No formal cover for the Saturday night series–donations of $10 per set requested to support the series and musicians. Series schedule at www.saturdaynightjazzattheblackdog.info; full venue calendar and information at www.blackdogstpaul.com