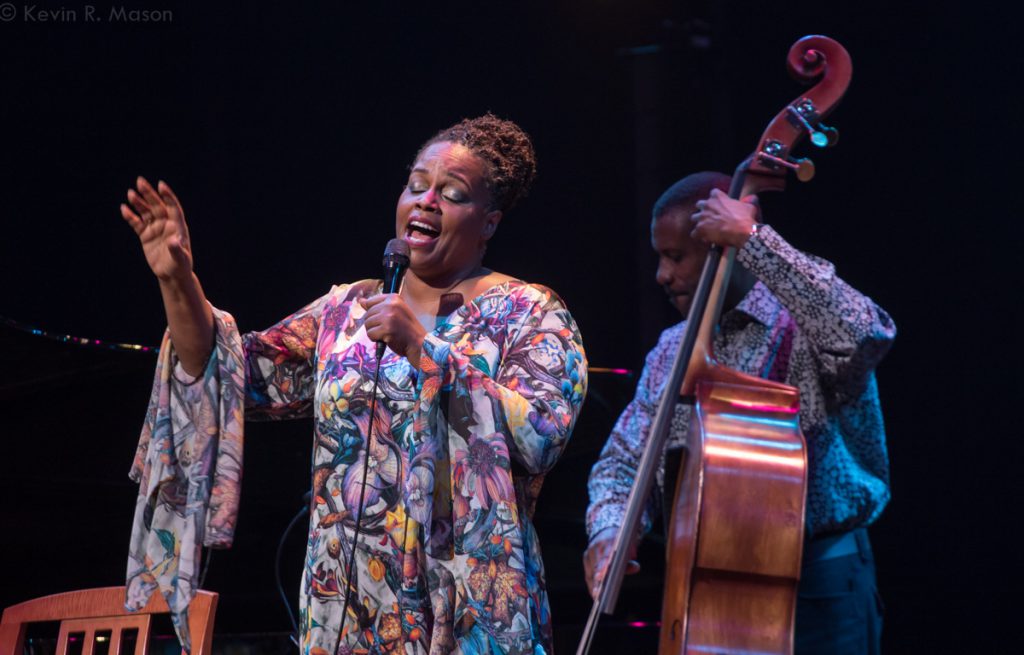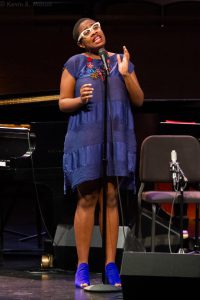 The seventh annual TD James Moody Jazz Festival took place from November 4 to 18, 2018. In seven years, this Festival has become a highly anticipated event every fall, one that has presented some of the biggest names in jazz on the New Jersey Performing Arts Center (NJPAC) stages.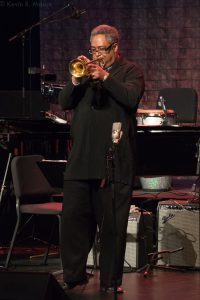 The 2018 Festival line-up included Stanley Jordan, Antonio Sánchez, Terri Lyne Carrington, Kurt Elling, Jon Faddis, Cécile McLorin Salvant, Catherine Russell, Stefon Harris, Eric Alexander, and many more.
Django Festival Allstars w/Guest Star Edmar Castañeda
On Sunday, November 4, the TD James Moody Festival kicked off in spectacular style with the Django Festival Allstars, guitarist/violinist Dorado Schmitt, his two sons, guitarists Samson and Amati, violinist Pierre Blanchard, accordionist Ludovic Beier, rhythm guitarist Francko Mehrstein, bassist Gino Roman and guest star, harpist extraordinaire Edmar Castañeda. The group just arrived from France, and they are embarking on a tour of the United States. They play both original compositions, as well as the music and style of the late Belgian-born, Romani-French jazz guitarist/composer Django Reinhardt. Reinhardt often collaborated with violinist Stéphane Grappelli, and Django is considered one of the greatest musicians of the 20th Century. Although Reinhardt died way too young at 43, his influence has been continually felt over the years. The Django Festival Allstars are continuing to pay tribute to Django's legacy with their excellent music.
The set started with two high-energy songs, "Belleville," about a neighborhood in Paris, and a Ludovic Beier composition, "Gypsy Wagon." The concert continued with Samson Schmitt's lovely, romantic, and lush ballad, "Lovely Wife." "Dorado Smile," composed by Pierre Blanchard, was a sprightly and delightfully whimsical song that had audience members nodding their heads and tapping their feet. On the energetic "Dorado Swing," Dorado Schmitt played the violin with remarkable skill. After the first section of music, they introduced harpist Edmar Castañeda, and the group performed the Django Reinhardt classic "Minor Swing" and the beautiful and lyrical "For Pierre." "On Cloudy Skies," Ludovic did a sublime solo. Castañeda said, "Everything is experimental, improvisational. I don't know what I'm going play, but I am going to play for you. Thank you for coming." After they played a wonderful finale, "Tchavolo Swing," they received an enthusiastic standing ovation. Ludovic Beier joked with the crowd, "You want another song? You have nowhere to go after? Neither do we. So, we'll play you a song that is a standard for the Gypsy people, "Bossa Dorado."
The musical virtuosity of this group, both as individuals, and as a whole, was very high, and they did a great job of opening the 2018 TD James Moody Jazz Festival!
Dianne Reeves & Gregory Porter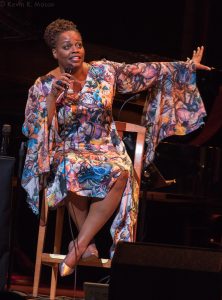 It isn't every day that you have two of the greatest voices in jazz on the same bill. So, this concert was a musical feast for jazz lovers. On Thursday, November 8, NJPAC CEO John Schreiber welcomed the crowd, and introduced James Moody's widow, Linda Moody. She said her husband was all about love, and this festival that was named after him is also all about love. She concluded, "Thank you for loving the music, and supporting the music." Then Schreiber brought bassist Christian McBride (Artistic Advisor of jazz for NJPAC) to the stage, and he in turn introduced exceptional vocalist, Dianne Reeves, noting that out of seven years, she has appeared at least five times at the TD James Moody Jazz Festival. Dianne's bandmates were pianist Peter Martin, guitarist Romero Lubambo, bassist Reginald Veal, and drummer Terreon Gully. After the band riffed for a bit, Dianne came on stage looking splendid in a flowered print dress. She sang an affecting "Twelfth of Never," where her soaring voice leaped octaves effortlessly. Ms. Reeves had quite an adventure, with airline trouble, getting to New Jersey. In an astonishing improvisation, she sang the story of cancelled flights, an engine fire on her second flight, and finally arriving in New Jersey after a series of mishaps. Not only was this performance musically brilliant, but it was also filled with humor, tension, and excitement. With less than a day to put it together, Dianne's musical storytelling was nothing short of extraordinary. She spoke about the passing of Roy Hargrove, saying, "He was like a living school. He could play, boy could he play! But I really loved to hear him sing." She performed "September in the Rain" in tribute to Hargrove and personalized some of the lyrics. It was a sweet dedication.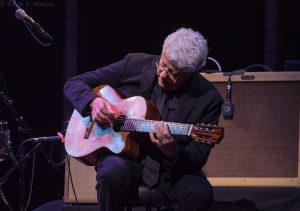 Reeves did a funky, bluesy scat duet with bassist Reginald Veal, then the entire band chimed in. Dianne turned it into a powerful political statement about unity, moving forward, and being positive and strong. She then discussed a concert she did in the Great Rift Valley in Kenya, and all the amazing animals they saw there. Reeves and Romero Lubambo did a gorgeous "Quiet Nights of Quiet Stars," which she said reminds her of beautiful nights in Africa. Dianne finished her set with her signature singing introduction of her band. No matter how many times you may have heard her do this, it is always a thing of beauty!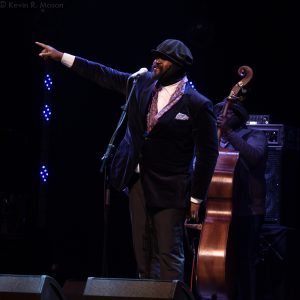 Gregory Porter's band, pianist Chip Crawford, bassist Jahmal Nichols, saxophonist Tivon Pennington, and drummer Jeremy Clemons, got the set started. Then Porter came out looking dapper in a black velvet jacket and a printed ascot. He started his set strong with "Holding On." Then he addressed the audience, saying, "Thank you so much for being here and partaking of this music. We were definitely blessed with the beautiful Dianne Reeves. I'm just glad to be here as the cool-down act!" Of course, Porter is so much more than that. He talked about the profound effect that Nat King Cole had on him, and added, "In the absence of my father, Nat King Cole's music was very important to me." When he was very young, his mother told him that he sounded like Cole, so he decided to find out who this man was, and it started a lifelong admiration. He even sung a bit of "Pick Yourself Up," which is one of the songs by Nat that inspired him. Gregory's achingly beautiful rendition of "Mona Lisa," just accompanied by Chip Crawford on piano, did great justice to the classic tune.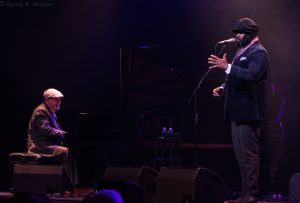 Next came "On My Way to Harlem," performed with a great deal of style and feeling. "Take Me to the Alley" was just as passionate, and Gregory really sold the story with his rich, velvety voice. In fact, the song was so moving, at one point an audience member called out, "Bless you, Gregory," which was followed by a burst of applause. In a change of pace, "Papa was a Rolling Stone" started with an impressive bass solo by Jahmal Nichols, and it segued into "Musical Genocide," during which Chip Crawford did an astounding mash-up of "Lift Every Voice and Sing" and Earth, Wind & Fire's "Keep Your Head to the Sky" that had the audience cheering and singing along. Porter returned to Nat King Cole with his delightful version of "Nature Boy" and a touching, longing Cole song, "I Wonder Who My Daddy Is." He followed with a superb mix of "A Change is Gonna Come" and "What the World Needs Now is Love." He also sang a tribute to several great singers, including Stevie Wonder, Ella Fitzgerald, Sammy  Davis, Jr., and Luther Vandross. The finale, "Liquid Spirit" had such a driving tempo, that Gregory encouraged people to clap along, which they did, up to the packed rafters!  In the hands of the gifted Porter and his talented band, this set was a tour de force!
Although the standing ovation was loud and long, and the audience wanted more, Gregory came out and thanked the crowd, but said that he wasn't allowed to do an encore. However, since the whole concert with Dianne Reeves and Gregory Porter was almost three hours long, you really couldn't ask for more. What a show it was!
Congas Y Cantos – Featuring Sheila E., Eddie Palmieri, Tito Rojas, & The Christian McBride Big Band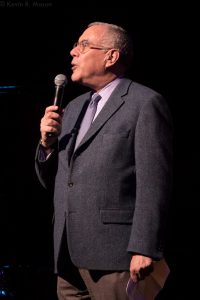 On Friday, November 9 at the Prudential Theater, NJPAC CEO John Schreiber started the evening with a tribute to the late Marian McPartland's NPR show, Marian McPartland's Piano Jazz, and to the show's producer, Shari Hutchinson. After Marian's death in 2013, Ms. Hutchinson honored a promise to keep the legacy of the show alive. To that end, for the past five years, Hutchinson resurrected and redistributed many of the show's episodes. Now, Shari Hutchinson is retiring after 42 years, and the show is ending its long run on NPR. Fortunately, the program will still be available as an educational resource.
Poet/activist Felipe Luciano was the host of the evening, which was on the same night as the Guitar Passions show at NJPAC's Victoria Theater, starring guitarists Stanley Jordan, Sharon Isbin, and Romero Lubambo. So, it was a tough choice between two great line-ups. This show started with an exceptional Latin-flavored "A Night in Tunisia" by The Christian McBride Big Band. Then, multiple Grammy Award-winner and NEA Jazz Master Eddie Palmieri came on stage to abundant applause. On "Palmas," Eddie got the audience to do a syncopated clap, and they complied with great enthusiasm. Palmieri reminisced about the New York City nightclubs El Corso and the Palladium Ballroom. He also spoke of meeting Thelonious Monk as an introduction to the song he composed in tribute to Monk, "Noble Cruise." Eddie Palmieri really rocked his set!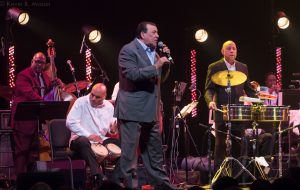 Felipe Luciano announced singer Tito Rojas, who started with a passionately romantic song in Spanish. He also spoke Spanish, and even if you didn't speak the language, his warmth and humor came through clearly. After Rojas' set, the Christian McBride Big Band performed a pulsating version of McCoy Tyner's "Sahara."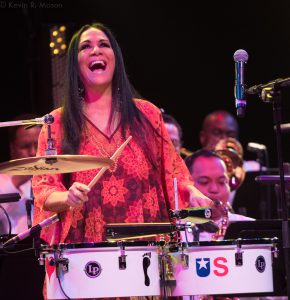 Singer/drummer Sheila E. was introduced, and she said, "Thank you for supporting great music, and thank you for letting me sit in with this amazing band, The Christian McBride Big Band!" After showing off her stellar percussion skills, she said, "Who said women and girls can't play drums?" Sheila continued, "Love and hate cannot exist in the same atmosphere." She said that some people go days, weeks, and even years without hearing the word "love." So, she asked everyone to stand up and turn to a stranger and say, "I love you." She said it was her ministry to spread love, which she said can change the world in these challenging times we're facing, and she asked people to go out and spread that feeling. Then, she jumped right into an explosive "The Glamorous Life," singing and playing with gusto. She practically blew the roof off the Prudential Theater! For an encore, she played a red-hot "Oye Como Va." It was the perfect finish to a great night of Latin music. In fact, the night was so hot with musical vibes, that after the concert, the festivities continued with a dance after-party in the lobby of NJPAC.
Marcus Miller, Davis Sanborn, and Lalah Hathaway
On Saturday, November 10, the TD James Moody Jazz Festival continued with multi-instrumentalist Marcus Miller, saxophonist David Sanborn, and vocalist Lalah Hathaway in concert. Christian McBride welcomed the audience and introduced D.J. Spark, who warmed up the crowd for Lalah Hathaway. Looking resplendent in a brightly colored outfit, Lalah came out and began with "Baby Don't Cry." Her set was filled with romantic ballads like "Y O Y," and a funky, sultry version of "Summertime," during which she did an arresting whistling duet with background vocalist Jason Morales. In honor of her legendary father, she said, "We're going to do some Donny Hathaway music. Is that okay?" It was more than okay with the crowd, and she followed with a tribute to 70s music that included "Angel," and "Love's Holiday." She finished with "Insanity," closing in style.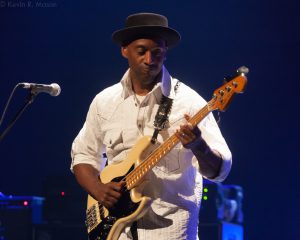 After a short intermission, Christian McBride brought Marcus Miller and his band to the stage. The first song was "Come Together." Miller discussed how much he always liked the bass line on "Papa Was a Rolling Stone." All the musicians got to shine on this song, especially trumpeter Russell Gunn, who did a truly stand-out solo. From Miller's latest CD, Laid Back, they played the composition by Marcus and keyboardist Brett Williams, "Untamed."  Then, Miller sang the praises of Lalah Hathaway, and brought her back out to perform a moving "People Make the World Go 'Round." Marcus said he had another special guest, who really needed no introduction. David Sanborn came on stage, and they played his hit song, which Miller wrote for Sanborn, "Maputo." David said, "What an honor and a privilege to be here. My gratitude to this man is beyond measure!"  The group played a jazzy version of Stevie Wonder's "For You" with excellent sax work by Sanborn. From Miller's CD Afrodeezia, a collaboration with musicians from Mali, they did "Hylife."
To finish the concert, Miller pulled out a baritone saxophone and dedicated a song to his late father, who recently passed away. Marcus recounted how his father played the pipe organ in church every Sunday, and said he'd like to play a church song, "If that's all right." They did a lovely performance of "How Great Thou Art." He told the crowd, "It has been an honor and a pleasure to play for you. God bless you."
For an encore, Miller introduced a song that was inspired when he was walking through the streets in Turkey, soaking in the vibes. The atmosphere motivated him to write a composition that combined Istanbul and New York. It was a raucous, high-energy number that was a fabulous finale.
The Sarah Vaughan International Jazz Vocal Competition – The SASSY Awards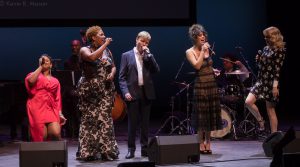 The final event of the 2018 TD James Moody Jazz Festival was The Sarah Vaughan International Jazz Vocal Competition, aka "The SASSY Awards," which were held in NJPAC's Victoria Theater. WBGO Radio's Rhonda Hamilton was the host, and she spoke about how established the contest has become in seven short years. She discussed the truly international nature of the competition, with submissions from all around the world. Rhonda introduced the illustrious judges, WBGO's Sheila Anderson; Mary Ann Topper, President of the Jazz Tree, Inc. artist management; vibraphonist Stefon Harris; vocalist/composer Nnenna Freelon; and trumpeter/composer/conductor Jon Faddis. The band for the evening was Musical Director/pianist Sergio Salvatore, drummer Buddy Williams, and bassist Gregory M. Jones.
Each of the finalists in the competition was introduced by a short video. From Connecticut, in Toscha Comeaux's video, she said, "Sarah Vaughan was one of my top inspirations. Her voice is like butter, with attitude." On stage, she said, "Good afternoon! Let's get this party started!" She sang "You Turned the Tables On Me." She had the audience in stitches with some quips about her size, saying "I'm built for comfort, not speed!" She counted off her second song with a lot of body movement and posing, and got another laugh when she quipped, "Let me give the drummer some," swaying her hips in his direction.
In San Franciscan Gabrielle Cavassa's video, she said, "I'm in love with and obsessed with jazz. It's the medium I choose to express myself. When I think of Sarah Vaughan, I think of class." She entered the stage in a glamorous gown, and started a capella on "Stardust," singing beautifully on this classic ballad. She described her second number, "I've Never Been in Love Before," as one of her favorite songs, and she really put her own stamp on the tune.
Blind Russian singer/pianist Oleg Akkuratov's video revealed him stating, "I started playing music at three. Music is my soul, my freedom…I feel the energy and the drive. Sarah Vaughan was a beautiful vocalist. The competition means so many possibilities for my career!"  Oleg came on stage and accompanied himself on piano for a gorgeous up tempo "Nature Boy," which he sang in a clear, strong voice. He also did some spectacular scatting that caused some spontaneous applause. Oleg said. "Thank you so much. I am so excited to be here." Hoagy Carmichael's "Skylark" was his second song. It was very romantic, with an unusual scat solo.
Cleveland resident Laurin Talese stated in her video, "Jazz has always appealed to me. I like to listen to music that is transcendent. When I think of Sarah Vaughan, I think of elegance and class, and how she knew her voice inside and out. She was one of the best of the best."  Laurin added that she was grateful to be one of the finalists. She entered in a stylish all-white gown and performed a lush rendering of "The Very Thought of You." She continued with "Something Happens to Me" and she scatted with a lot of panache.
Australia-born Olivia Chindamo's video had her comment, "When I first started listening to scat, I was listening to Ella. Then, someone said I should check out Sarah, and my mind was blown! She was not just a singer, she was a composer and an entertainer." Dressed in a shimmery black dress, Olivia started with "Wrap Your Troubles in Dreams" in a light, lyrical voice, with a multi-octave range. Then, she said, "I think it's time to get a little more intimate in here. Is that okay with you guys? This is a good time to snuggle up to the person next to you." She got a laugh when she added, "I suggest you introduce yourselves first!" As a native Australian who now lives in New York, she said her second song was close to her heart, "Autumn in New York."
After all the finalists sang, there was a video about the life of Sarah Vaughan and the history of The SASSY Awards. The details of Sarah's spectacular career were highlighted. The video covered her various collaborations, and how she embraced several styles of music, while jazz remained at the core of her musical heart. It was also noted how this competition helps to keep Vaughan's musical legacy alive, while looking for the next generation of musical stars.
After the video, the finalists returned to the stage to sing one more song each. Toscha Comeaux spoke about the way The Carpenter's song, "Rainy Days and Mondays" always got to her, and she sang it with a great deal of emotion. Gabrielle Cavassa introduced a song she wrote about a time when a boy broke her heart. Months later, she was leaving a gig, and on auto-pilot, she drove by his house. She stopped by a nearby gas station and came to herself. She sang a few notes into her recorder, and later wrote, "19th and Judah," and she performed this very personal song in an intimate manner. Oleg Akkuratov celebrated the 120th birthday of George Gershwin with his own arrangement of "Fascinating Rhythm" which was jazzy, joyful, and swinging. Laurin Talese returned in a red-hot dress and sang a red-hot "Save Your Love for Me." Olivia Chindamo, in a red sequined dress, said, "We're going to play a little number about old-school romance." She did a rapid-fire "Tea for Two" that showed her vocal range to full effect. Each of the finalists was so talented, that the judges had quite a task ahead of them.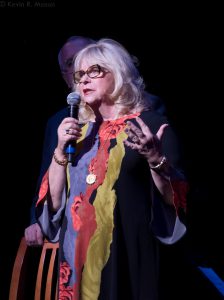 After an intermission, Rhonda Hamilton discussed the process of determining the finalists, which was a massive undertaking, starting with 600 submissions. She thanked the sponsors, including TD Bank, The Newport Jazz Festival, and WBGO Radio. In addition to other prizes, this year's winner will get a spot at the 2019 Newport Jazz Festival.
NJPAC CEO John Schreiber came on stage and talked about when he first asked Linda Moody, James Moody's widow, for permission to name a festival after her late husband. Linda Moody came to the microphone and talked to the audience about the beauty of the TD James Moody Jazz Festival and the SASSY Awards. Linda also reminisced about the night she met her husband, and on that same night, he introduced her to Sarah Vaughan.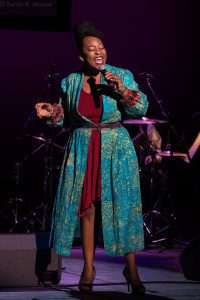 The winner of the 2017 SASSY Awards, Quiana Lynell, took the stage and sang a lively "You Hit the Spot" that amply displayed her talent. Then, all five of the 2018 finalists returned and sang a medley of Sarah Vaughan's songs, including "Lullaby of Birdland," "Misty," "Broken Hearted Melody," "Tenderly," and "Just Friends." It was really an exquisite group performance.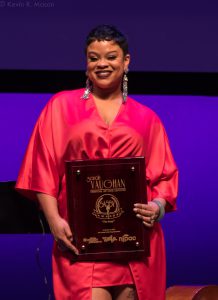 After what had to be an excruciatingly tough deliberation for the judges, they awarded the prizes as follows:
3rd Place: Toscha Comeaux
2nd Place: Oleg Akkuratov
1st Place: Laurin Talese
At most of these competitions, the audience seems to be split as to who should win, but Laurin Talese was a worthy choice for the top spot. It was quite an afternoon of music, and the gifted finalists proved that the future of vocal jazz is bright!
In Conclusion
In the past seven years, the TD James Moody Jazz Festival has become one of the biggest jazz events during the autumn in the U.S. Northeast. NJPAC also presents jazz events throughout the year. There are free monthly jazz jam sessions at Clement's Place, 15 Washington Place, Newark, NJ. You can RSVP at the website at: www.njpac.org/about-njpac/community-engagement-1/community-events/jazz-jam-sessions.
The Bethany Jazz Vespers, with NJPAC, will present Oliver Lake on February 2, Catherine Russell on March 2, Reggie Workman on April 6, and Vanessa Rubin and the Don Braden Organix Group on May 4. All the Bethany Jazz Vespers are free, and take place at Bethany Baptist Church, 275 West Market Place, Newark, NJ.
On February 16, dancer/singer Maurice Hines will be performing his show, Tappin' Thru Life with the DIVA Jazz Orchestra, at NJPAC's Victoria Theater.
On March 21 to March 24, NJPAC will stage the musical, Duke Ellington's Sophisticated Ladies, directed by André De Shields and choreographed by Mercedes Ellington.
On April 12, NJPAC will host Chick Corea Trilogy with Christian McBride and Brian Blade, with special guest Joey Alexander at Prudential Theater.
Zakir Hussain's Masters of Percussion will take place at Victoria Theater on April 27.
On May 4, The Yellowjackets will appear at Victoria Theater. For more information about upcoming NJPAC events, go to: www.njpac.org.