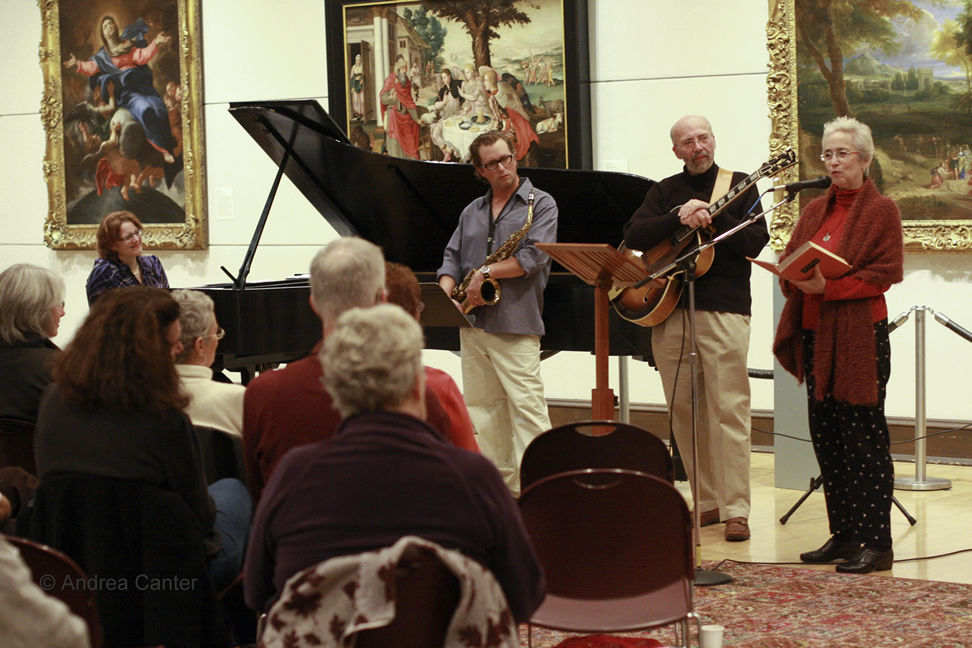 "Come spend another hour with the Soul Café ensemble and let the art do its healing work." –Steve Blons, Soul Café
The ensemble Soul Café has brought jazz and poetry together for the past decade, usually in the Gallery of the Hennepin Avenue United Methodist Church. In its early run of nearly monthly Sunday evening performances, the original cast of Soul Café (guitarist Steve Blons, saxophonist Brad Holden, pianist Laura Caviani) addressed a theme or presented a pairing of poet and composer. Although Soul Café closed out its series of regular dates in 2008, the trio reunited periodically, often expanding the ensemble with the addition of one or more musicians. Soul Cafe– now in its original format– returns with pianist Steven Hobert replacing Caviani, performing on Sunday, October 30  at 7 pm, with the music and poetry addressing the theme of "Dancing With Our Fears," and featuring special guest, percussionist Daryl Boudreaux.
Music and Poetry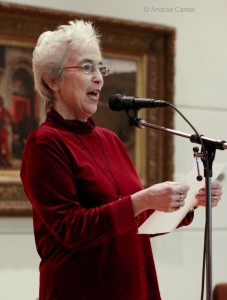 The merging of jazz with poetry and spiritual passions has an extensive history. From Duke Ellington's Sacred Concerts to Coltrane's Love Supreme to the many weekly jazz services at local churches, from the rich gospel heritage that spawned generations of great jazz artists from Nat King Cole to Cyrus Chestnut, jazz has been a natural medium of religious expression. And the merger of jazz and poetry has similarly been explored, from the presentations of the late Steve Lacy to Fred Hersch's Leaves of Grass to Patricia Barber's reinvention of Ovid's Metamorphoses (Mythologies), and locally from Prudence Johnson's Millay Project to the weekly open poetry night at St. Paul's Artists Quarter. And for the past decade in the Twin Cities, jazz, poetry and spirit have found a very successful partnership through Soul Café, a project originally funded by the Hennepin Foundation of the Hennepin Avenue United Methodist Church.
In their early collaborations, Soul Café addressed such themes as "Beauty," "Change," "Light & Darkness," and "Hope," bringing together poems and songs that seemed connected to the chosen concept.  In more recent performances, Soul Café has presented a tribute to Thelonious Monk (a Caviani specialty) with readings from the Beat Poets; worked with a local painter who created art accompanying the music; tackled the theme, "Ain't Love a Kick in the Head: Songs of Love and Loss;" merged the poetry of e.e. cummings and with the music of jazz icon Wayne Shorter; presented the music of sax icon Gerry Mulligan with the poetry of Donald Hall and Jane Kenyon; paired love poems and Jerome Kern, and more.
Sunday's theme and program, "Dancing With Our Fears," raises the questions, "What keeps us awake at night? What uncertainties hang over our heads? Where are we trying to regain some control? Sometimes our worries and fears  chase us around the bullring as we try to defend ourselves or escape.  Could we dance instead of run?" Blons notes that the musicians have selected "some heartfelt poetry to help us, and music to dance with our spirits." Of the music, Blons notes the selections range from the music of Fats Waller to compositions of McCoy Tyner. Blons and wife Jan Bucher will select the evening's poetry and readers that reflect the theme.
The Musicians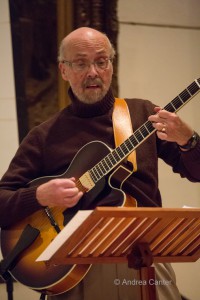 Soul Café's leader, Steve Blons (aka Dr. Jazz), grew up around jazz as the son of Twin Cities' Dixieland musician Harry Blons. Gigging around town as a teenage guitarist, Blons pursued other career directions, and worked in higher education, adoption, and conference center management before turning to fulltime music about ten years ago. Blons and Michele Jansen co-hosted Jazz and the Spirit for several years on KBEM radio.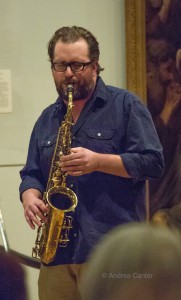 Alto saxman and Fergus Falls, MN native Brad Holden first became interested in the saxophone after attending a junior high jazz band concert at age ten. Today he notes that "for the last twenty-eight years, the alto saxophone has been at times both my best friend and my worst enemy."  Studying at the University of Minnesota where he played in jazz ensembles, Holden worked for a while playing on street corners of New Orleans. Returning to Minneapolis, he played professionally around town and studied with local legend Eddie Berger. His local gigs have ranged from solos on the rooftop of the old Loring Cafe to the Twin Cities Jazz Orchestra Big Band. Other projects have included Lineup (the music of Lennie Tristano, Lee Konitz, and Warne Marsh), and of course, Soul Café. Of his bandmates, Holden says "Their ears are always open and ready to follow or lead."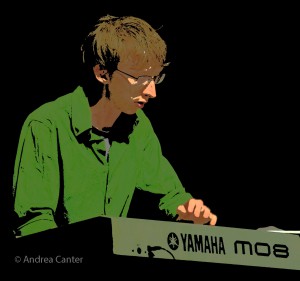 Originally from Hartland, Wisconsin, Steven Hobert studied piano improvisation at the University of Wisconsin Eau Claire, in part influenced by the music of Keith Jarrett. After graduation, Hobert performed with symphony orchestras from Calgary to Buffalo, played on cruise ships, and spent a year touring Japan, Canada and the U.S. with the Glenn Miller Orchestra. He also served as music director for vocal ensemble Five By Design. Currently Steven leads FireFly Forest, plays accordion in Lulu's Playground and piano with the Adam Meckler Orchestra, works in duo with saxophonist/flautist James Kellerman and with guitarist Dean Magraw, and generally works as a freelance musician and teacher of piano, accordion and woodwinds.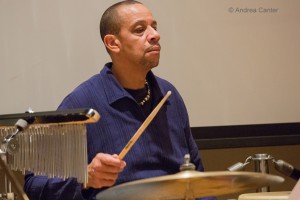 Popular percussionist Daryl Boudreaux has performed and recorded throughout the Twin Cities with a long list of artists, including Bruce Henry, Dennis Spears, Connie Evingson, Prudence Johnson, Dan Kusz, T. Mychal Rambo, Sounds of Blackness, The Steeles and the late Shirley Witherspoon. In addition to his skills on a variety of African percussion instruments, Daryl is also known for his hambone body percussion. He's appeared on several previous Soul Cafe outings
Hennepin Avenue United Methodist Church is located at Lyndale and Groveland near the I-94 Lyndale exit across from Loring Park in Minneapolis; information at 612-871-5303. Donation of $10 suggested. Soul Café begins at 7 pm in the Art Gallery.