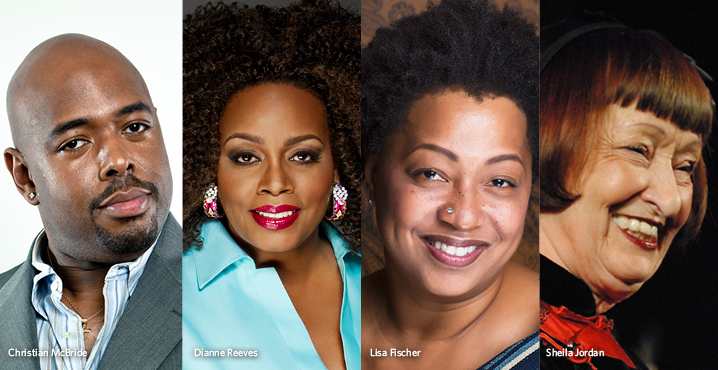 The New Jersey Performing Arts Center (NJPAC) had its spectacular opening celebration on October 18, 1997 that included performances by Wynton Marsalis, Chita Rivera, Alvin Ailey Dance Theater, Savion Glover, and the American Ballet Theater, a show that later aired on PBS' Great Performances. NJPAC has continued its PBS association with the program American Songbook at NJPAC, which has hosted artists from the worlds of jazz, cabaret, and Broadway, including John Pizzarelli, Maureen McGovern, Valerie Simpson, Marilyn Maye, Catherine Russell, Stephen Schwartz, Christine Ebersole, Sandy Stewart, and Bill Charlap.
Over the past two decades, NJPAC has become one of the biggest venues for jazz on the East Coast. The center presents jazz artists throughout the year, and the largest event is the annual TD James Moody Jazz Festival (formerly the TD James Moody Democracy of Jazz Festival), named for the late saxophonist/flutist/composer James Moody.
The 2016 TD James Moody Jazz Festival, October 15-November 20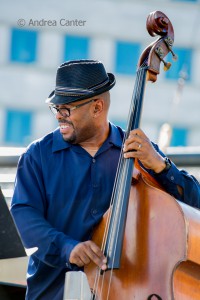 On the NJPAC website, Jazz Advisor Christian McBride had this to say about the fifth annual TD James Moody Jazz Festival: "This season, I'm especially looking forward to leading all-star concert tributes to two of Newark's legendary musicians–the 'Divine' Sarah Vaughan and saxophonist and composer Wayne Shorter–and hosting an afternoon of music and conversation with four-time Grammy winner Esperanza Spalding. I'm also beyond excited to be a part of a very special reunion of James Brown alumni in Prudential Hall with guests including Sharon Jones, Bettye LaVette and more to come. Now and throughout the season, you'll be hearing from Cécile McLorin Salvant, The Buena Vista Social Club, Wynton Marsalis, the greats of GRP Records, and many others. That's the kind of company we keep. Expect big turnouts and I recommend you get yourself to the box office early."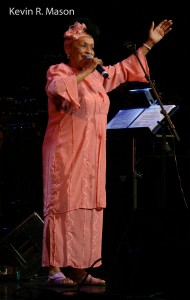 The schedule for the upcoming TD James Moody Jazz Festival:
October 15 – Buena Vista Social Club's Omara Portuondo
November 1 – Jazz in the Key of Ellison, starring Wynton Marsalis, Catherine Russell, Angélique Kidjo, Patti Austin, Talib Kweli, and Joe Morton
November 6 – The Brubeck Songbook with Chris & Dan Brubeck and singer/pianist Hilary Kole
November 12 – The Antonio Hart Quartet
November 13 – Cole Porter From A to Z: Celebrating 125 Years
November 16 – Fela! The Concert: Afro Beat Party
November 16 – The Brandee Younger Quartet
November 17 – GRP Revisited: Honoring Larry Rosen
November 18 – Get On Up: A James Brown Celebration
November 19 – Day of Swing
November 19 – Sarah Vaughan Celebration starring Christian McBride, Dianne Reeves, Lisa Fischer and Sheila Jordan
November 20 – Sarah Vaughan International Vocal Competition
Review: The 2015 TD James Moody Jazz Festival
The fourth TD James Moody Jazz Festival took place from November 4-15, 2015 with a fantastic array of concerts, including Wynton Marsalis and the Jazz at Lincoln Center Orchestra; The Real Sinatra Songbook with Kevin Mahogany, Sue Raney, and Tom Wopat; The Judy Carmichael Trio; Dianne Reeves; Sharon Jones and the Dap-Kings; Bill Charlap; The T. S. Monk Sextet; and Dorado Schmitt & Django Festival Allstars. There were also seminars and special events, like One on One with Christian McBride and Bruce Hornsby; Jazz Wives, Jazz Lives; and the Day of Swing, an afternoon filled with free family activities. The celebration of jazz culminated in the Sarah Vaughan International Jazz Vocal Competition.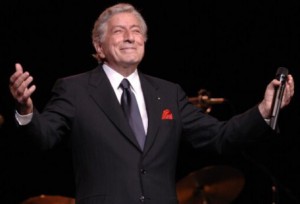 Tony Bennett with Special Guest Antonia Bennett. On Friday, November 13, The "Godmother of the Festival," Linda Moody, widow of James Moody, welcomed the audience to Tony Bennett's concert. The show was opened by the renowned singer's daughter, Antonia, a talented vocalist in her own right. Antonia's set included "Teach Me Tonight," "Taking a Chance on Love," and "Sail Away" by Noel Coward. At the end of her set, Antonia spoke lovingly of how much she enjoyed touring with her father.
Introduced by an old recording of Frank Sinatra, Tony Bennett entered the stage to a standing ovation and was on top of his game from the first song, "Watch What Happens." The set continued with "They All Laughed," "Sing, You Sinners," and "Stepping Out." Tony brought Antonia back on stage for a duet of Stephen Sondheim's "Old Friends" and they charmed the audience with a delightful soft-shoe routine.  In honor of Frank Sinatra's 100th birthday, Tony sang a lovely and haunting "But Beautiful," and in tribute to Duke Ellington's 116th birthday, he sang "In My Solitude." Bennett said he's been singing all his life, and he still loves it, and thanked the crowd for being so good to them. He did a medley of many of his hits, like "Rags to Riches," "Cold, Cold Heart" and his first recording, "Boulevard of Broken Dreams." He also performed "The Good Life," "How do You Keep the Music Playing," "The Shadow of Your Smile," "One for My Baby (and One More for the Road)," "For Once in My Life," and "I'm Old Fashioned."
Mr. Bennett must have sung "I Left My Heart in San Francisco" thousands of times over the years, but still puts his heart into it. During a mashup of "Smile" and "When You're Smiling," Tony put the microphone down, astonishing the crowd with the strength of his voice. DownBeat Magazine's 2015 Readers Poll selected Tony Bennett as Best Male Vocalist and voted him into the Hall of Fame. Once you've seen this iconic performer in person, it's easy to understand why he is still so revered by the public. Although many people consider Friday the 13th a bad-luck day, it was the best of luck for the audience at NJPAC!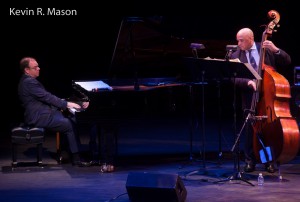 Bill Charlap Presents: Miles Davis' Birth of the Cool. Pianist Bill Charlap's concert featured compositions and arrangements for the Miles Davis Nonet by Gerry Mulligan, Gil Evans, Johnny Carisi, and John Lewis. Charlap was joined by trumpeter Jeremy Pelt, alto saxophonist Jon Gordon, baritone saxophonist Frank Basile, trombonist Jason Jackson, French horn player Jeff Scott, tuba player Bob Stewart, bassist Peter Washington, and drummer Kenny Washington. They played Gerry Mulligan's "Jeru," which came from Miles Davis' nickname for Gerry, and continued with "Deception," "Moon Dreams," "Rouge," and John Lewis' arrangement of Miles Davis and Bud Powell's "Budo." Bill Charlap is not only a consummate musician, but also an excellent storyteller. His eloquent explanations of each song added lots of color and richness. He discussed the composers who helped usher in the post-bebop period and how their music is still fresh today because of the perfect placement of the solos in the arrangements. The set continued with Gil Evans' gorgeous "A Ballad" and "Boplicity," Denzil Best's fast-tempo delight, "Move," and George Wallington's splendid "Godchild," followed by "Venus de Milo" and "Israel."  Jimmy Van Heusen's "Darn That Dream" featured special guest vocalist Sandy Stewart, who is Bill Charlap's mother. Ms. Stewart sang with ease and grace, showing off her years of experience as a "girl singer." There was a cute moment when Sandy looked over her shoulder and smiled proudly at Bill playing a piano solo. The finale was "Rocker," a song based on "Sleigh Ride." The group received a resounding standing ovation at the end, which touched Bill Charlap so much, he started clapping back at the audience.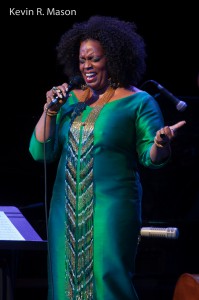 Jazz Soul & Funk Starring Christian McBride, Dianne Reeves, and Sharon Jones &The Dap-Kings. NJPAC CEO John Schreiber welcomed the crowd, and spoke movingly of the day after 9/11, when the Parisian newspaper Le Monde wrote a headline, "Today, We Are All Americans." In light of the horrific terrorist attacks in Paris that occurred the day before this concert, Schreiber said, "I feel confident that tonight, we are all Parisians!" which met with enthusiastic applause.
Bassist Christian McBride introduced his friend Dianne Reeves as one of a select number of singers who can be called icons, describing her as "One of the greatest living musicians in the world!" Ms. Reeves, wearing a stunning emerald-green gown and a striking statement necklace that dangled past her knees, was joined by pianist and Musical Director Peter Martin, guitarist Romero Lubambo, bassist Reginald Veal, and drummer Terreon Gully. Christian McBride sat in with the group and did a whimsical scat/bass duet on a McCoy Tyner song. After singing the lighthearted "Nine," Dianne acknowledged the heartbreaking events in Paris, and wished the best for the people of France during that tragic time, adding, "I experience so much goodness every day. So stay light, and stay strong." It was an excellent and uplifting ending to an outstanding set.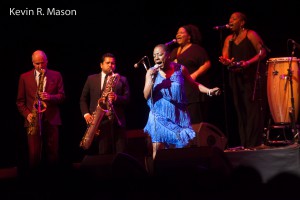 Sharon Jones & The Dap-Kings brought high-energy style, lush arrangements, and soulful vocals. Singer Sharon Jones burst on stage in a sparkly, fringed blue dress that almost seemed alive, moving to Sharon's every dance move, and there were a lot of them! She started out in bling-filled stilettos, while singing about new shoes. Then she admitted her new shoes were hurting her feet, and changed into some flat, jeweled sandals. For all the dancing she did, who could blame her? On a medley of old-school funk songs, Sharon demonstrated the iconic dances of the time: The Twist, The Jerk, The Pony, and The Camel Walk, then belted out a raucous version of "When the Saints Go Marching In." Even when singing a ballad, Sharon displayed a barely-contained energy that could be felt throughout NJPAC's Prudential Hall! The Dap-Kings, guitarist Joseph Crispiano, trumpeter Christopher Davis, guitarist Franklin "Binky Griptite" Stribling, tenor saxophonist Neal Sugarman, percussionist Fernando Velez, drummer Brian Wolfe, baritone saxophonist Cochemea Gastelum, and bassist Gabriel "Bosco Mann" Roth, really matched Sharon's energy! Jones' dynamic performance was even more astonishing when you learn she was undergoing chemotherapy. Sharon Jones is an inspiring testament to courage and perseverance.
Jazz Wives, Jazz Lives. This illuminating panel discussion was held at Newark Museum. Introduced by NJPAC's CEO John Schreiber, Linda Moody hosted the wives of notable jazz musicians. Whatever difficulties they might have endured, the women focused on all the joyful and gratifying experiences they had with their husbands. They also stressed the importance of WBGO Jazz Radio in their lives. Among the wives were Cecilia Foster, widow of Frank Foster; Brenda Feliciano, Paquito D'Rivera's wife, who discussed finances and royalties; attorney Laurelyn Douglas, wife of Jon Faddis; Sandy Jackson, widow of Milt Jackson, who asked if she could take care of the business side of things because he just wanted to play music; Dorthaan Kirk, widow of Rahsaan Roland Kirk, who recounted taking a leave of absence from her job at the LA Department of Social Services to go on the road with Rahsaan, and never went back; and Linda Moody, widow of James Moody. During the question-and-answer period, the ladies told anecdotes about their favorite songs and discussed the comeback of vinyl records.  In closing, Linda Moody said how fortunate they are to have such a beautiful venue as NJPAC, and how James Moody felt that jazz shouldn't be relegated only to dark, smoky clubs. She thanked the audience for coming, and encouraged people to keep supporting jazz.
The 2015 Sarah Vaughan International Jazz Vocal Competition: The SASSY Awards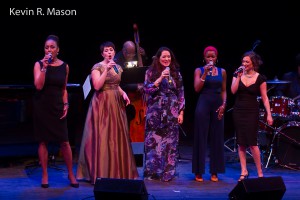 WBGO Radio's Rhonda Hamilton welcomed the crowd, and said "Jazz is the music of freedom, and that's what we celebrate this afternoon." Rhonda announced the five finalists, found after a worldwide search: Arianna Neikrug, a native of Los Angeles; Lulu Fall, from New York; Nicole Zuraitis of Brooklyn; Detroit-based Emma Lee Aboukasm; and Angela Hagenbach of Kansas City. The finalists each sang two songs after being introduced by short biographical videos. Arianna sang "Devil May Care" and "My One and Only Love," Lulu did "No Greater Love" and "Solitude," Nicole performed "I'd Rather Drink Muddy Water" and "I Wish You Love," Emma Lee sang "Fascinating Rhythm" and "Tenderly," and Angela sang, "Street of Dreams" and "Angel Eyes." They all performed at such a high level, the judges had a tough job ahead.
After intermission, there was a video celebrating Sarah Vaughan's remarkable career, followed by a tribute to late record producer Larry Rosen, a founding co-producer of The SASSY Awards.  The judges, vocalist Vanessa Rubin, singer Cyrille Aimée (the first winner of The SASSY Awards), bassist Christian McBride, music manager Edward Arrendell, and WBGO's Michael Bourne narrowed down the competition to three: Arianna Neikrug, Nicole Zuraitis, and Angela Hagenbach, who each sang again. Arianna performed "After You've Gone," Nicole sang "That Old Black Magic," and Angela gave her rendition of "Love for Sale." During the judges' deliberation, Musical Director/pianist Mike Renzi, bassist Lisle Atkinson, and drummer Buddy Williams entertained the audience with a medley of Duke Ellington songs, including "Satin Doll," "Do Nothing Till You Hear From Me," "Lush Life," and "Take the "A" Train."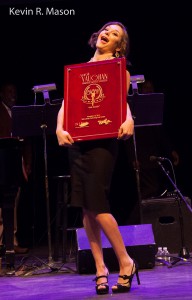 When the judges finished deliberating, Rhonda Hamilton announced Nicole Zuraitis as 2nd Runner-Up, Angela Hagenbach as 1st Runner-Up, and Arianna Neikrug as the Grand Prize Winner! After the awards were bestowed, all five finalists returned to the stage for a medley of Sarah Vaughan's songs, including "Lullaby of Birdland," "Misty," "Brokenhearted Melody," "Tenderly," and "Just Friends." It was a beautiful ending to the competition and the fabulous TD James Moody Jazz Festival!
American Songbook at NJPAC airs on PBS' New Jersey station NJTV, and episodes and clips can be viewed online at: http://www.njtvonline.org/programs/american-songbook-at-njpac/. For more information about events at NJPAC, go to: www.njpac.org.